Bitcoin was trading at $19,000 in December 2017. It has since dropped to below the $6,000 mark. Here is why Bitcoin plummeted and how you can profit from it as a trader/investor.
The "how to invest in bitcoin and make money" is an article that will give you a detailed explanation of the Bitcoin price drop. It also has a list of actions that you can take to profit from this market.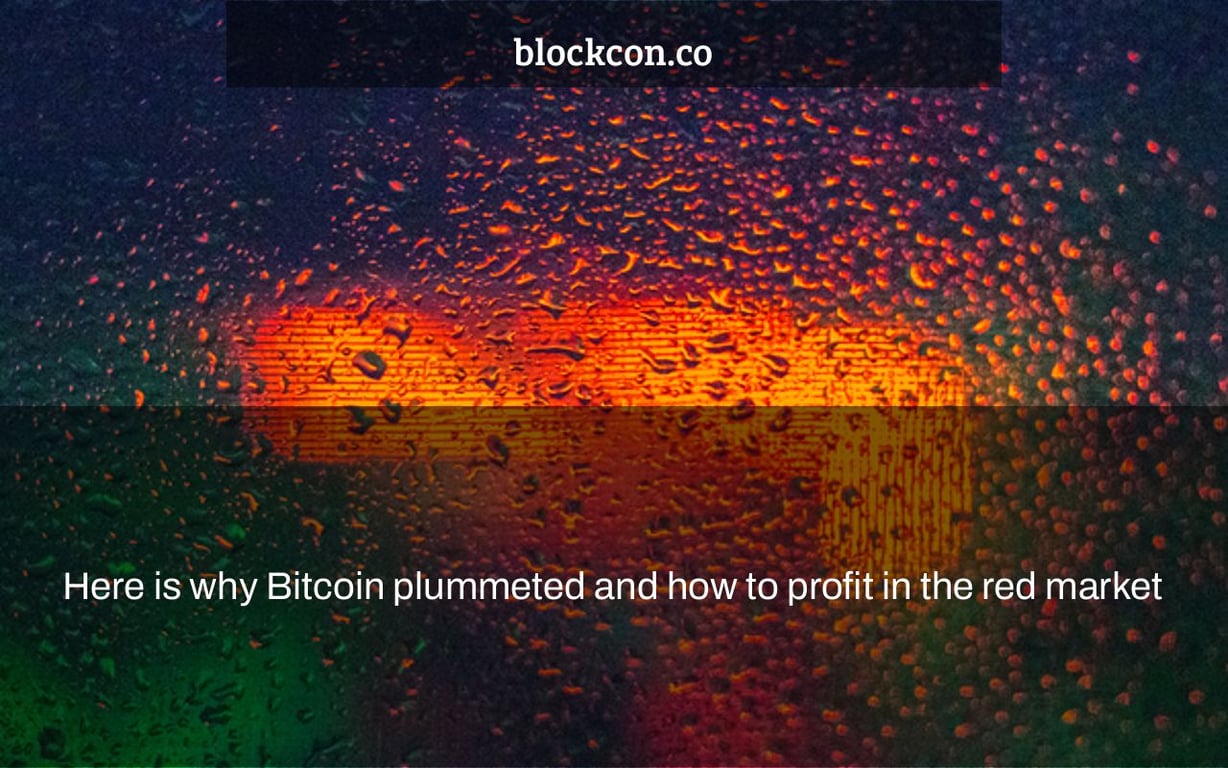 Bitcoin (BTC) is trading in familiar territory below $50,000 in the first full week of 2022. Bitcoin has witnessed many drops of differing degrees since the end of December 2021. It even fell below $43,000 on Jan. 5, a drop of about 10% in less than 8 hours. Bitcoin is finally making some significant changes, and the following few days are likely to be quite turbulent.
The cryptocurrency market sentiment which has been displaying extreme fear intensified after a prolonged period of sluggish performance and the recent plunge. Crypto Fear & Greed Index has changed from 24 yesterday to 15 now (the lower the index, the more fear).
A slew of unpleasant news arrives with the downturn swings and anxiety sentiments:
Sharp Corrections in the Stock Markets and the Federal Reserve
After minutes from the Federal Reserve's December FOMC meeting revealed that the regulator is dedicated to shrinking its balance sheet and raising interest rates in 2022, U.S. stock markets fell back at the closing bell. BTC's price dropped below $44,000 as stock markets fell, triggering a wave of liquidations that totaled $222 million in less than an hour.
In a series of tweets on January 3rd, Charles Edwards, founder of asset management Capriole, said, "Bitcoin will be volatile in this time, both as a result of stock market volatility, but also as a result of sudden Fed course corrections."
Multinational Regulatory Policies are Being Cracked Down On Continually
Bitcoin prices are encountering increasingly severe hurdles as a result of one crypto regulatory policy after another. Iran, as one of the world's largest crypto mining nations, is shutting down crypto mining facilities once again in order to cut liquid fuel use in power plants as temperatures drop. Meanwhile, owing to overcrowded electrical systems, Kosovo has joined Kazakhstan, Iran, and Iceland in placing limitations on Bitcoin mining. Furthermore, members of Parliament in the United Kingdom are pressing for tighter regulatory monitoring of crypto assets this year, and South Korea's National Tax Service declared that people would be obliged to pay tax on cryptocurrency payments beginning in January 2022.
The hash rate on the Bitcoin network is expected to drop by 13.4%.
Kazakhstan, the world's second-largest nation in terms of Bitcoin mining hash rate, suffered extraordinary political upheaval on Wednesday. The nation's internet was shut down by state-owned Kazakhtelecom, causing network traffic to drop to 2% of daily levels. The decision has given a serious damage to Bitcoin mining in the nation, which accounts for 18% of the global Bitcoin network's hash activity. The Bitcoin network's total hash rate dropped 13.4% in the hours after the shutdown, from about 205,000 petahash per second (PH/s) to 177,330 PH/s, according to statistics provided by YCharts.com. It has a significant influence on worldwide bitcoin mining.
BTC Losses Increase
The BTC price has been hovering around $45,000 for a long period on the daily chart of the BTC/USDT pair. Bitcoin has continued to tumble after breaking through this price. On December 22, the EMA (Exponential Moving Averages) Cross had a death cross, which was nearly a foreshadowing of the BTC price drop around this time. Overall, BTC has lost 37.5 percent of its value from its all-time high of $68,000 to its current price of $42,500. The majority of experts believed it had entered a bear market.
How Can You Make Money During a Bear Market?
You may need to know 100 times leveraged futures trading bitcoin if you want to benefit from a down market. You may purchase up (go long) or sell down (go short) using 100x leverage futures trading, which means you can benefit whether the market rises or falls. Furthermore, 100 times leverage might double your income by a factor of 100.
What is 100x Leverage and How Does It Work?
With this instrument, traders may initiate a position with just a 1% margin requirement. For example, if we spent 1 BTC to start a short contract at $46,800 on January 5th and closed it 8 hours later at $42,500, our profit would be ($46,800 – $42,500) * 100 BTC / $42,500 = 10.11BTC, resulting in a ROI of almost 1000 percent.
Trading Platform with 100x Leverage Recommendation
Bexplus is a major crypto derivatives trading platform that offers futures trading with 100x leverage on a variety of trading pairs, including BTC, ETH, ADA, Doge, XRP, and others. Bexplus does not need KYC and has a global user base of over one million dealers. Furthermore, it is safe to be accredited by MSB (Money Services Business).
Benefits of Bexplus:
Every deposit receives a 100% bonus.
Bitcoin wallet with a maximum yearly interest rate of 21%.
Traders may practice leverage trading on a demo account with 10 BTC.
No KYC is required, and registration takes just a few minutes with email verification.
On the Apple App Store and Google Play, you'll find an intuitive and feature-rich app.
One-on-one support available 7 days a week, 24 hours a day, to address your difficulties at any moment.
There is no time restriction on withdrawals, and there is no deposit charge.
Get a 100% deposit bonus when you join Bexplus!
Bitcoin's price has been dropping for the past few weeks and it is not clear what is causing this. Some speculate that there may be a lack of demand, while others are saying that it could just be an issue with Bitcoin's supply. Reference: how much was bitcoin in 2018.
Related Tags
why did bitcoin spike
will cryptocurrency crash
bitcoin price crash