Bitcoin has been viewed as a digital currency and payment system. In the absence of mainstream, general-purpose awareness and knowledge, it can be difficult to appreciate what Bitcoin really is. Block Research found that lack of knowledge often leads to an inhibition in people's willingness to use cryptocurrencies like bitcoin for their day-to-day needs by curtailing its adoption across different sectors such as finance or retail
The "barriers to entry cryptocurrency" is a problem that has been present for a while. Lack of awareness and knowledge curtails bitcoin adoption, block research finds.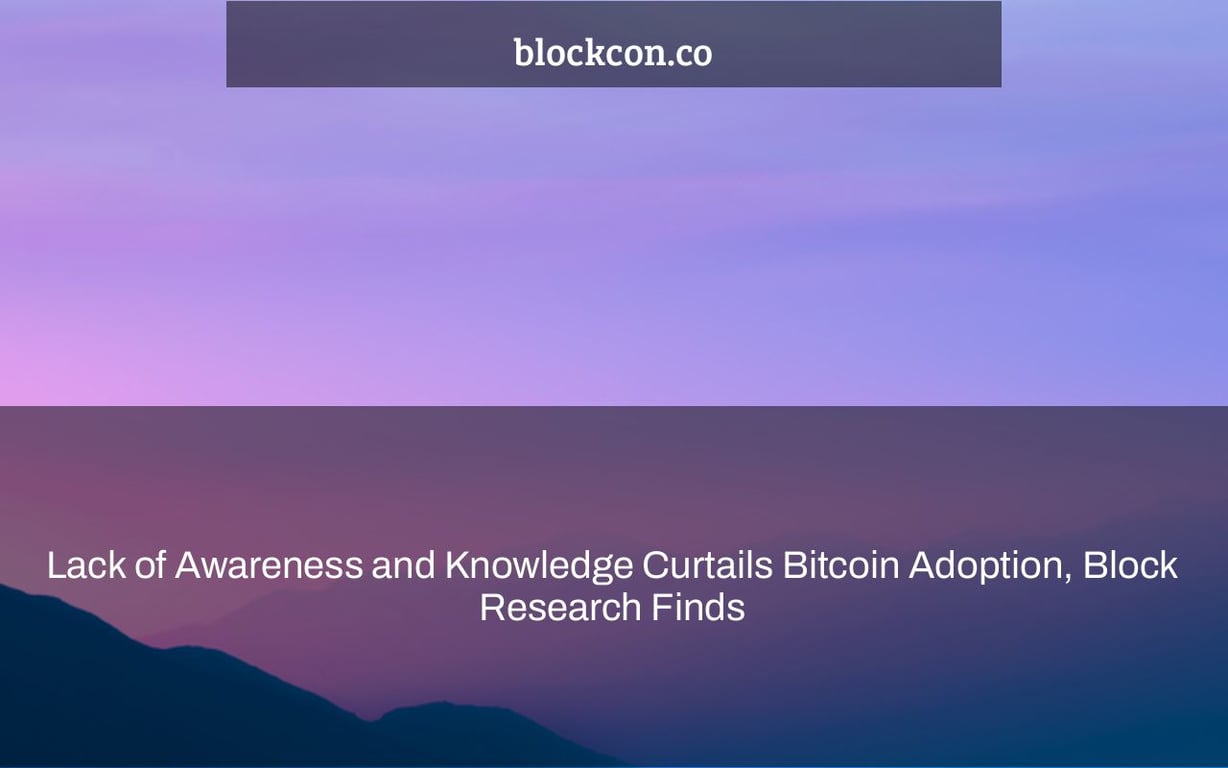 Block, previously known as Square and launched by former Twitter CEO Jack Dorsey, has produced a new research on Bitcoin, the most popular digital currency. The study, which was done in partnership with Wakefield Research, was designed to determine popular perceptions about Bitcoin.
What were the results? Because they lack understanding, most individuals who haven't experimented with cryptocurrency are losing out.
The survey was done between January and February, with more than 9,500 individuals from all around the globe participating, including 2,375 people from the Americas, 4,360 from Asia, and 2,860 from Europe.
There is a knowledge gap to be filled.
Block demonstrated that a person's understanding of Bitcoin determines whether or not they believe it has a bright future. Only 7.9% of those who indicated they had a beginning level of knowledge said they were likely to acquire Bitcoin in the next 12 months, compared to just over 40% of those who said they had an intermediate-to-expert level of knowledge.
The level of optimism in Bitcoin among those polled was likewise related to their income. Higher-income people are somewhat more optimistic about Bitcoin's potential than lower-income people, while lower-income countries like India, Vietnam, Nigeria, and Argentina have the highest levels of optimism and user trust in their own cryptocurrency knowledge.
According to Block's results, mass-scale education is required to overcome the 51 percent of respondents who indicated they had avoided purchasing Bitcoin owing to a lack of information about this digital asset class. Participants also cited cybersecurity dangers (32%), as well as market price volatility, as reasons for staying away from Bitcoin.
Uncertainty about crypto knowledge, on the other hand, was unmatched by awareness, with the majority of participants confirming they'd heard of Bitcoin previously. Bitcoin is significantly more well-known than any other cryptocurrency, with 88 percent of respondents having heard of it. Also, whereas millennials had 92.5 percent knowledge of bitcoin and baby boomers had 89.2 percent, all age groups asked had a clear understanding of Bitcoin.
In poorer economies, utility is important.
The Bitcoin-focused financial services organization also discovered that Bitcoin is most useful in low-income nations. Individuals from nations with low per-capita GDP are more likely to use Bitcoin for purchasing items and transferring money, with 40% of respondents from these countries favoring Bitcoin for sending remittances.
Furthermore, respondents in countries with high inflation regard the top digital asset as a necessary tool to combat inflation. Bitcoin was viewed as a hedge against inflation by 45 percent of Argentinian respondents. Because of the country's war against inflation, crypto penetration rates are substantially greater than in other inflation-stricken countries.
Tim Draper, a billionaire, believes Bitcoin will reach $250,000.
In other news, Tim Draper, a wealthy venture capitalist, has reiterated that Bitcoin will achieve his anticipated market value of $250,000 by early next year. In an interview with Scott Melker, the venture investor predicted that the pioneer cryptocurrency's value will skyrocket to this level, owing to rising crypto use among women.
YTD trading chart for BTC/USD
Bitcoin looked to be on the mend at the end of last month, but its upward momentum has since slowed. The most popular cryptocurrency is presently trading little around $30,000. Draper believes Bitcoin's value will increase eightfold in the remaining time (until Q2 next year) to achieve this goal.
Despite being aggressive and arriving at a time when the market is in a negative cycle, the anticipated value is not unrealistic. It's an objective that Draper has already set for himself. It's worth recalling that in 2015, the tech and crypto investor forecasted that Bitcoin will top $10,000 by 2018 — a price prediction that came true in the end.
According to recent market statistics, women currently control a larger portion of money than ever before. As a result, it is not improbable that the king cryptocurrency would appreciate in value. Draper also called attention to shops, whom he feels may benefit from advantages such as increased discounts by accepting Bitcoin payments, which would help drive the cryptocurrency's ascent.
Visit our Investing in Bitcoin page to learn more about Bitcoin.
The "p2p energy trading blockchain" is a technology that has been used to power Bitcoin. The lack of awareness and knowledge curtails Bitcoin adoption, according to research.
Related Tags
blockchain energy consumption problem
blockchain in energy sector pdf
i know nothing about cryptocurrency
digimentality 2021
who knows the most about bitcoin