Uphold, a leading provider of digital asset services and blockchain-based money transfer platforms announces the addition of OriginTrail (TRAC), Mina Protocol (MINA), Arweave (AR), Convex Finance (CVX) & Spell Token(SPELL) to its trading platform.
Uphold, a cryptocurrency trading platform, has added OriginTrail (TRAC), Mina Protocol (MINA), Arweave (AR), Convex Finance (CVX) and Spell Token (SPELL) to its growing list of tradable cryptocurrencies.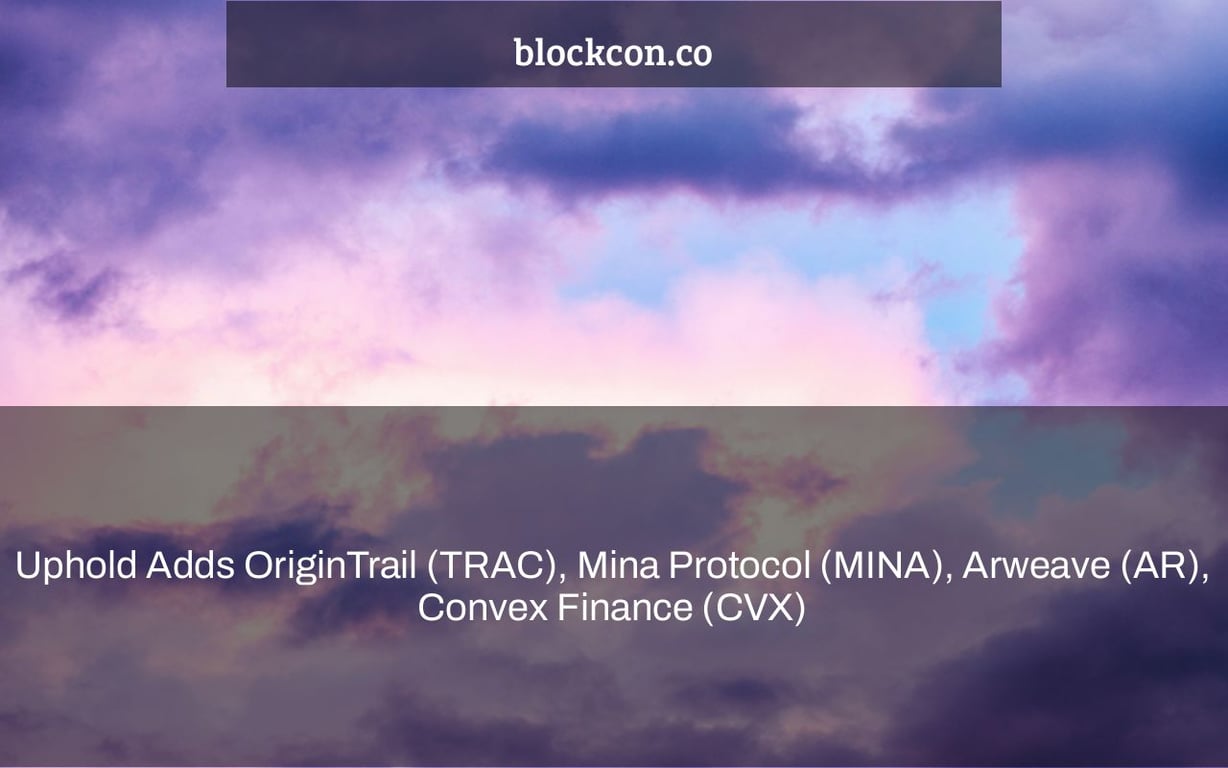 Uphold, a prominent digital money platform with over 1.7 million users throughout the world, has announced the addition of five more cryptocurrencies to its trading platform. Uphold is a multi-purpose platform that allows companies to pay individuals all around the globe or accept cryptocurrency payments and convert them into local currencies immediately. It's also a popular cryptocurrency trading site for buying, selling, holding, and sending.
As of January 8, there are five new additions to the Uphold Exchange. Uphold Adds OriginTrail (TRAC), Mina Protocol (MINA), Arweave (AR), Convex Finance (CVX) & Spell Token (SPELL) to the Trading Platform.
We will take a closer look at some of the featured cryptocurrencies Uphold has added to its platform. These new digital assets will be available to the United States and other regions. UK & Europe residents are prohibited from trading on Uphold.
1. The Protocol of Mina (MINA)
The Mina Protocol (MINA) is a proof-of-stake (PoS) blockchain and cryptocurrency that is compatible with smart contracts. The protocol is unique in that it restricts block size to to 22 kilobytes. Developers dubbed the technology "the world's lightest blockchain" because of its innovative methodology.
The Mina Protocol (MINA) combines a number of cutting-edge cryptocurrency technologies to address a number of market issues. The platform primarily aids in the fight against centralization. Mining monopolization has been a problem for early blockchain projects for a long time. These concerns will impact practically every network in the future. This concentration is due to the nature of blockchain technology. Miners must preserve a copy of the legitimate transaction history as blockchains expand.
Visit our Investing in Mina Protocol or How to Buy Mina Protocol guides to learn more.
Arweave 2
Arweave (AR) is a decentralized storage network for the future generation. The platform establishes a permanent information storage network that is safe and accessible from anywhere in the world. The project's purpose is to build a more long-term version of the internet while also lowering developer limitations. The platform allows users and developers to archive webpages and sources indefinitely. As a result, the network allows for the development of more productive and comprehensive applications.
Arweave is working to decrease or eliminate a wide range of issues. For one thing, the network's redundant and decentralized design eliminates data loss. According to reports, the internet is full with material that has been lost for a variety of reasons. The present data storage systems are vulnerable to loss over time, due to anything from hackers to human irresponsibility.
Visit our Investing in Arweave or How to Buy Arweave guides for more information.
3. SourceTrail (TRAC)
OriginTrail is a supply chain ecosystem that aims to change the industry. The purpose of its implementation is to provide new efficiency and accountability to an increasingly fragmented industry by introducing decentralization. If successful, OriginTrail will provide firms the capacity to track objects internationally throughout their lives, which is critical for sectors such as consumer goods, food, and more, since it allows for authenticity and origin certification.
Visit our How to Buy OriginTrail page for more information.
4. Finance with a Convexity (CVX)
Convex Finance was designed specifically to encourage and reward both liquidity providers and stakers on Curve Finance, a decentralized exchange for Ethereum-based stablecoins.
CVX tokens are used by Convex Finance to 'enhance' the returns perceived by CRV holders. On Curve, liquidity providers (LPs) may increase their profits by locking up more tokens on the platform.
Visit our How to Buy Convex Finance guide to learn more.
Buy & Sell on Uphold
Uphold is a one-of-a-kind platform that enables you to trade bitcoin, commodities, equities, and other assets with simplicity on both the desktop and mobile platforms. The firm is situated in the United States and was launched in 2014. If you want to understand more, read our Uphold Review or go to Uphold.
Uphold Disclaimer: The assets provided on Uphold are region-specific. All investments and trading are dangerous, and there is a chance of losing money. Because cryptoassets are mostly unregulated, they are not protected.
Uphold, a leading cryptocurrency trading platform, has added OriginTrail (TRAC), Mina Protocol (MINA), Arweave (AR), Convex Finance (CVX) and Spell Token (SPELL) to its portfolio. The company is also launching new features that will make it easier for users to trade cryptocurrencies. Reference: uphold hq inc.
Related Tags
uphold margin trading
uphold coins
stable coins on uphold
uphold convert crypto
uphold com reviews